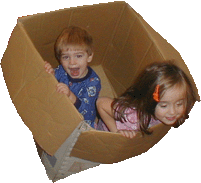 Updated September 10, 2003...
Sydney Ballet Pictures - Official Ballet Portrait taken in June, 2003 before her recital. So cute!
---
Four Entries - Updated August 20, 2003...
---
August 3, 2003...
Raj Trip to Maine, Late July 2003 - Raj meets up with cousins to help Aunt Sally spruce up her house in Maine.
---
July 9, 2003...
Camp Jeep, Virginia! - Off-roading thru water. X-treme skateboarding. Rock wall climbing... and a muddy, dented and happy Jeep to show for it!
---
June 20, 2003...
Mid May thru Mid June 2003 - Sydney in her ballet recital costume, Avyn driving a friend's little yellow beetle car, a school picnic which Avyn slept thru entirely, Sydney's last day of pre-school (sniff), and Father's Day 2003. Pics presented in no particular order (software did it alphabetically).
---
May 25, 2003...
Origami, and Sleep-over - Raj talked about Origami at Sydney's school recently to 25 very enthusiastic kids. Next day, Sydney hosted her first sleep-over! She was so excited! Also included here, a picture Avyn took of his and Daddy's feet, and a really nice photo of Tam and Sydney before they went to see the Lion King play, which enthralled them.
---
May 18, 2003...
Parade Day - We had a fun day! We saw the Lilac Parade, and the kids dressed up at a barbeque afterwards to perform a play. Also, 4-year-old Sydney borrowed the camera and took her own pictures of her friends!
---
May 2, 2003...
Easter and a Day at the Park - Tammy Ansel Adams Alairys broke out the Nikon for some great shots of the kids recently.
---
April 9, 2003...
Raj's birthday at Benihana Japanese Restaurant.
---
March 24, 2003...
Ixtapa, Mexico! More than just lying around on the beach - there was also a flying trapeze, a tightrope, and sailing.
---
February, 2003...
Ski trip to Winter Park, Colorado with the Lopata Family
---
November 29, 2002...
Thanksgiving 2002, and Grandpa's Birthday
Day After Thanksgiving - Lemon faces and martial arts.
---
November 27, 2002...
Finally some Real Snow to sled in... and shovel.
---
November 25, 2002...
Visit from Brooke
First Snow 2002!
Family pics from late November, 2002: running the mommy gauntlet, bucking bronco balloons, papasan disasters, etc.
---
November 6, 2002...
Fall Fun 2002! - Sydney and Avyn invited some neighbor friends over to "help" Raj clean up yard leaves...
---
Halloween, 2002...
Pumpkin Carving with some cool designs... and a possible ghost sighting!
Halloween!
Alairys Family Pix Late October 2002
Alairys Family At Sonny Acres October 2002 - Pumpkin patch, pony rides, etc.
Sydney and Avyn at the Morton Aboretum - Sydney's school field trip
Raj and Tam Bedroom Teardown - We're fixing up our bedroom with a touchup here and there...
---
Previous Posts...
Alairys life in mid-October, 2002
Celebrity Visit! - Sydney Meets Johnny Bravo! 12 October 2002
Alairys Family Photos - late September and October, 2002
Sydney And Avyn at the Children's Museum - October 9, 2002
---
Mihaela in America
---
Back to Main Page